Nairobi Woman Representative Esther Passaris on Tuesday honored a promise ot pay amateur investigators Sh10,000 to discover the original images that were mashed to create a photoshopped image depicting her in a romantic pose with Governor Mike Sonko.
"Calling on KOT Bureau of Investigations: Sh10,000 Cash Award to anyone who can identify the three original photos used in this lame photoshop mashup. From #RecordingArtist to #DigitalArtist. What next?" she announced on her Twitter page.
It only took a blogger identified as John Kihenja , a few minutes to discover the original images.
Several other users on the micro-blogging site later shared the original image.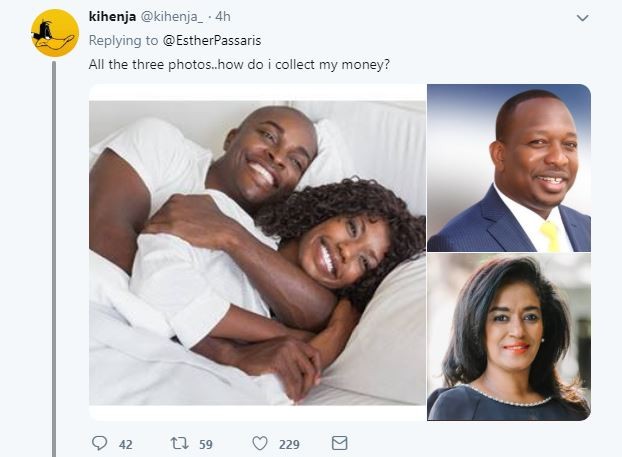 Passaris pays "investigator" John Kihenja Sh10k after discovering how this photo was mashed
Mpesa Message
Two hours after the post, Passaris shared an Mpesa receipt message to confirm that she had honored her promise.
"NFB6J1NBD4 Confirmed. Ksh10,200.00 sent to JOHN KIHENJA 0728 ** ** 05 on 11/6/19 at 4:32 PM," she posted.
Sonko has since supported Passaris in disowning the photoshopped image.
The county boss, in his usual controversial style, said he could not be the one on the photo as he does not hug from behind.
"I can see some idleness by some hired people here. This is photoshop, I don't hug from behind," the Governor said.