In the wake of famous political power forces like Bobi Wine, the musician-turned-politician who is being seen as the new face of opposition, Ugandans have become more mindful and critical about anything that seems to stifle their freedom.
Once again, Ugandans have been reminded about the existence of an Act that seeks to 'regulate' performing artists and event organisers in the country.
After a copy of a fresh draft proposal titled 'Stage Plays and Public Entertainment Act 2018' leaked on social media this week; discussions have hit the web, pointing fingers to President Kaguta Museveni's Government -- which has been in power for 33 years.
The timing of 'Stage Plays and Public Entertainment Act 2018' syncs with moments when a popular musician-turned-MP Bobi Wine is rallying a section of Ugandans through his 'People Power' movement to change the perception of governance in the country which hasn't seen a change of Presidents for over three decades.
What is Stage Plays and Public Entertainment Act?
The Stage Plays and Public Entertainment Act seeks to regulate public entertainment and stage plays, performing artists, event organisers and promoters in Uganda.
The act was reviewed once again, for the third time in 2018, coincidentally after Wine caused an international outcry when Ugandans soldiers brutally arrested and allegedly tortured him. More so, the continued frustration by police officers to block his shows and concerts, have cast a bad light on Museveni's regime.
Stage Plays and Public Entertainment Act was first introduced in 1943, before Uganda got its independence, and enacted in 1949.
By then, the act sought to regulate theatres, the safety of persons attending them, stage plays and defined the powers of the 'council' among other things, not forgetting licenses.
All guidelines were under article 49 of the Stage Plays and Public Entertainment Act -- which also defined offences and penalties involved in case of breach of guidelines.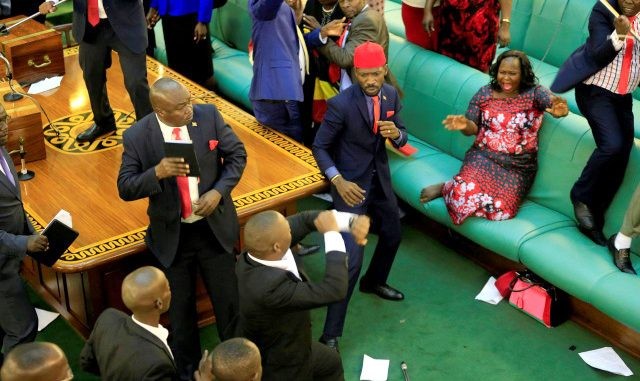 Fist fights in Parliament over amendment of presidential age limit
Re-introduction of Stage Plays and Public Entertainment Act in Parliament
In December 2009, plans to re-introduce a then 60-year-old legislation caused a public uproar among artists in Uganda.
The revised Act now required all performing artists to deposit a copy of their published works with government, register with the government and get annual practicing licenses from the ministry responsible for culture.
It also sought to give powers to the Censor Board to scrutinise the works for pornographic content before the production is permitted.
A group of musicians spoke passionately against the Act, three years after the 2006 chaotic presidential elections. It's the same time Ronald Mayinja released 'Tuli Kubukenke (we are on tension)' and 'Landlord' -- songs that seemed to be against the government.
Bobi Wine, who by then was rallying for Democratic Party as a passionate supporter, said: "The way this [act] has been imposed on us should be treated as a military coup."
Mayinja added: "There is nothing in this Act that is pro-musicians. It is for selfish interests."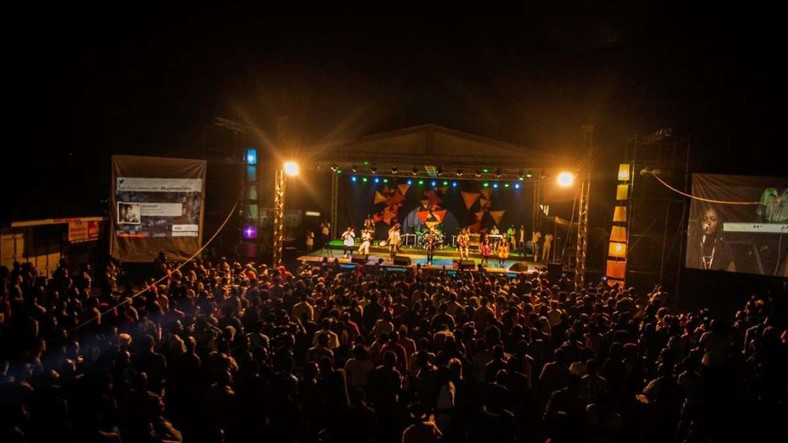 Bayimba International Festival in Kampala
Mixed reactions
Persons who were contracted by the Ministry of Gender, Labour and Social Development to come up with the guidelines described the Act as a necessity.
Bakayimbira Dramactors' Andrew Benon Kibuuka, who was among the persons contracted by the ministry, insisted that there was nothing wrong with the act saying the 'Censorship Board used to exist' and 'If you have no intentions of producing a bad song, why would you fear to be checked?'.
"The quality of the music on the market has to be checked. This has been the public outcry –some songs are not good enough to receive airplay," Kibuuka told The Observer in an interview.
Tough revised guidelines of the Stage Plays and Public Entertainment Act 2018
The leaked version of Stage Plays and Public Entertainment Act 2018 outlines stringent guidelines and conditions for performing artists.
For example, it seeks to prohibit 'artists or entertainers or performing' from performing on stage after 'taking drugs that are prohibited by laws in Uganda'.
The Act will block artistes from staging performances abroad without clearance from the ministry responsible for culture.
With the growing number of Ugandans in the diaspora, several Ugandan musicians have reaped big from staging shows abroad. Bobi Wine is currently in Jamaica where he was invited to perform at one of the country's vibrant concerts.
The Act introduces guidelines to crackdown indecent dressed performers, cautioning a possible disciplinary action.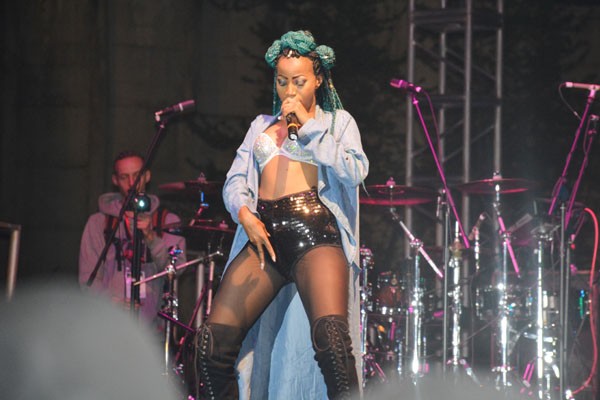 Sheebah Karungi has been accused of dressing indecently by Pornography Control Committee
Will the revised Stage Plays and Public Entertainment Act 2018 be successful in Parliament?
The possibility is high!
The composition of Uganda's Parliament is highly comprised of legislators from the ruling government NRM.
In 2017, MPs successfully voted to amend Article 102(b) of the Constitution, hence abolishing presidential age limit. The move was seen a soft pat on Museveni's back to contest for another term in office in 2021.
If the Stage Plays and Public Entertainment Act 2018 is tabled in Parliament for review and passed, the government will have the entire music industry in its palm, pulling its strings to dance to its tune.
The move would cement the ruling government's plan to silence opposing voices through a rather powerful platform -- music!