Kenyans were not impressed with Dennis Itumbi after he joined in the celebrating Eliud Kipchoge's victory at the INEOS 1:59 challenge held in Vienna, proposing an award for the legend.
Taking to Twitter, netizens had no mercy for Itumbi after he recommended Eliud Kiochoge for a Presidential award.
Itumbi posted a tweet stating that the legend deserved a CGH, (Chief of The Golden Hearts) awards, the highest medal that Kenya reserved for its finest sons and daughters.
The proposal angered Kenyans, who came out to rebuke him saying that the award would reduce him to the level of Githeri Man and Robert Alai. His proposal came after Eliud won the INEOS 1:59 challenge, in a record time of 1:59:40, making him the first person in the world to finish a marathon in less than two hours.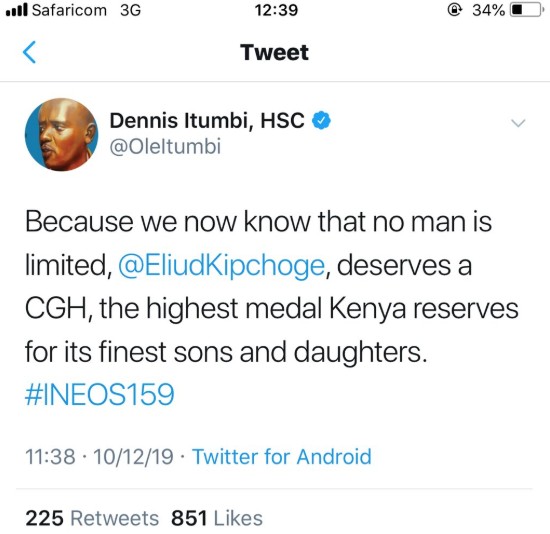 Itumbi roasted for recommending Eliud Kipchoge for a Presidential award
People who got the award last year include; Robert Alai, Mohamed Ali (Jicho Pevu), Githeri Man, Dennis Itumbi and Jacque Maribe.
Below is how netizens responded to Itumbi's proposal.
@bonifacemwangi Giving Eliud Kipchoge that useless award is demeaning his achievements. Those awards have been reserved for socialites, criminals, drug dealers, people who fund presidential campaigns, githeri man and the likes. Eliud is the GREATEST and doesn't belong there. Your wish is trash!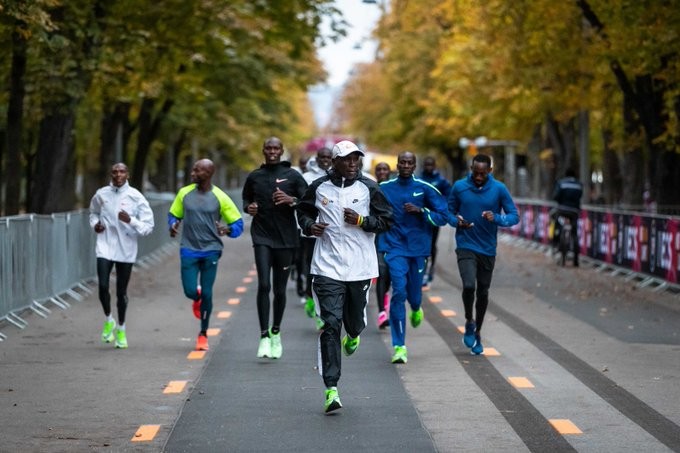 Eliud Kipchgoge preparing for the Ineos 1:59 Challenge
I agree @bonifacemwangi Eliud Kipchoge is too good to share an award with people like Itumbi and the Githeri man.Uhuru has made that award look like a joke!This year it should go to those people who drunk beers from that eabl lorry that overturned at Roysambu
@SaleemMumo Imagine giving him award hupewa kina Githeri man
@Kevoh Just a polite reminder that Robert Alai and Githeri Man have been accorded State House Recognition when guys like Eliud Kipchoge were eligible for the award.
@EMungau Please do not demean the hard work of Sir Eliud by giving him these tinfoil 'honours' y'all have handing out to whatever sychophants y'all feel like. Hakuna githeri hapo. You didn't bother to recognise him before, tutakaa hivyo hivyo.
GikonyoKelvin Imagine a legend being given same 'award' as Githeri man and Itumbi. I'd slit my wrists on his behalf.
@wambugumwara That would reduce him to the level of Githeri man and Alai. The man has just beaten time.
@MissAntre Wewe stop talking. You chose Maribe and Alai plus Githeri man over great people like Kipchoge because of your mouthy ego. Buana go play with Maribe hukooooo. We don't want noise.