Eliud Kipchoge who stunned the world on Saturday, 12 October 2019 after winning the INEOS 1:59 challenge in Vienna in a record time of 1:59:40 has spoken for the first time after winning the spectacular feat.
Speaking at a media interview shortly setting the record and becoming the first human being to run a full marathon in under two hours, Kipchoge seized the moment to inspire the billions across the world to go beyond their limits and achieve the unimaginable.
Eliud Kipchoge wins the Ineos 1:59 Challenge in Vienna, sets a new world record of 1:59:40
"I am the happiest man to run (a marathon) in under 2 hours in order to inspire many people, to tell people that no human is limited, you can do it. I am expecting more athletes in the whole of the world to run in under two hours after today.
"It means a lot to Kenya. I wanted to run under two hours in order to tell Kenyans that everyone can step out of his door and actually… do what is required by a human being to do and earn a good life."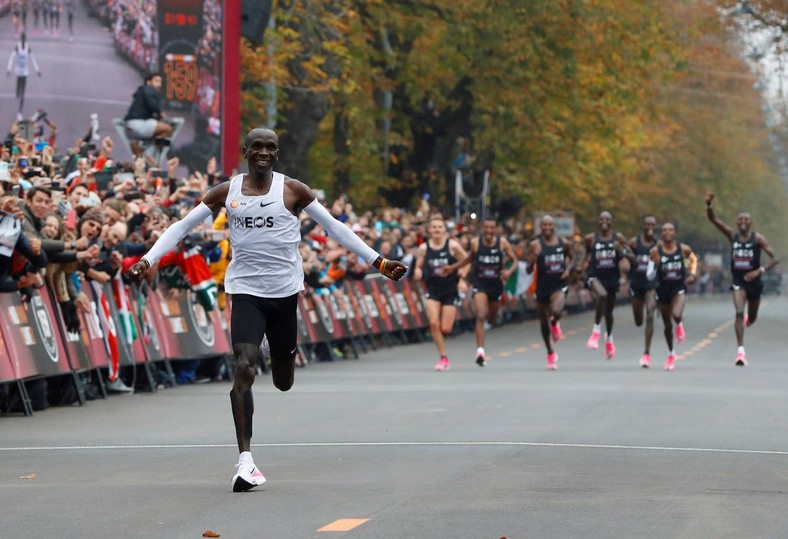 Eliud Kipchoge wins the Ineos 1:59 Challenge in Vienna, sets a new world record of 1:59:40
Kipchoge admitted that the morning before he made history was perhaps the hardest time as he woke up at 4:50 am, four hours before he hit the tracks in Vienna to shutter the record.
He revealed that achieving the feat was not a walk in the park with the pacemakers carefully selected stating that "It needs perseverance, dedication and the heart to run…I am feeling good".
The race was followed by millions across the globe with Nairobi residents braving the Saturday morning cold to follow the spectacular event on screens at various city streets.
His last sprint to the finish line lit up the crowds who witnessed history in the making.
He was received at the end of the race by his wife and children who have been an inspiration in his career that has seen him achieve what many thought would be impossible.
Also on hand to receive the man of the moment was Deputy President William Ruto.