Media personality Caroline Mutoko on Thursday morning tweeted herself into controversy after making comparing Kenyan's social media campaign against MPs to citizens of Burkina Faso who burnt parliamentary buildings in 2014.
Mutoko responded after a growing social media campaign criticising MPs who have proposed their monthly salaries from Sh1.1 million to Sh2.5 million.
The former Kiss FM presenter appeared to pour cold water on the online campaign – and appeared to suggest a more actionable strategy was needed.
"Where people don't waste time on hashtags," she tweeted while attaching a BBC story about how Burkina Faso's youth set ablaze their MPs to protest poor leadership.
However, the tweet did not augur well, majority of those who reacted pointed to Mutoko's support for President Uhuru Kenyatta and the Jubilee Party which has the majority of MPs in Parliament.
"Official launch of Uhuru's re-election campaign. Guess who the MC was? @CarolineMutoko the same one whose complaining about bad govt policies," Richie Mak stated.
"Says Caroline Mutoko...the official MC for Jubilee party during Safari park fund raising…," @Caldenoy remarked.
"The same Pro- Uhuru Caroline Mutoko who was an MC during the jubilee party fundraising is now the same person saying Kenyans are cowards who can't ask for accountability from their leaders. Pretence," Kelvin Masaka hit back.
As the criticism grew, Mutoko hit back at her critics, saying there was nothing wrong in her position against Kenyan MPs even though she had supported President Kenyatta's re-election.
"Isn't it too early to be shallow? Your MPs are asking for extra money NOT the President. Get with the program. The executive vs the legislative vs YOU," the veteran broadcaster said.
The tweet, however, did little to tone down the criticism as other netizens challenged her to lead the protest.
"Caroline and her daughter will be sitting pretty in her beautiful living room watching TV while us the sons of voters are being massacred while trying to torch parliament #wakeup fellow sons of the voters!" Kiprotich Koskos stated.
Here are more reactions to the tweet: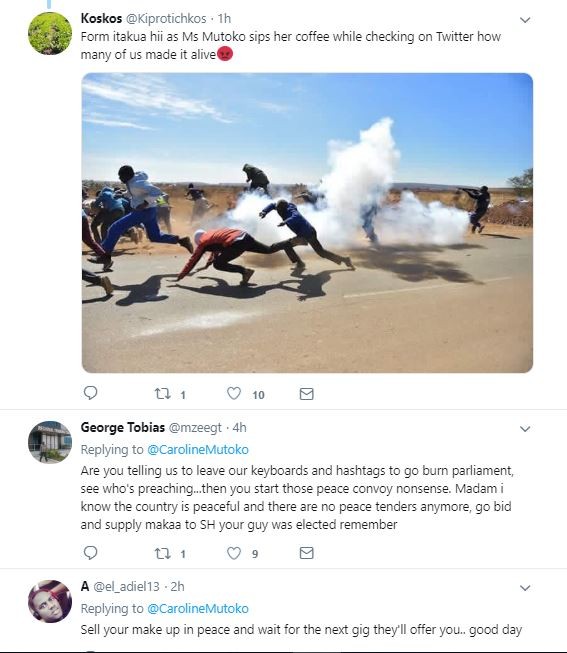 Caroline Mutoko's tweet on burning Parliament backfires as netizens accuse you of hypocrisy
Caroline Mutoko's tweet on burning Parliament backfires as netizens accuse you of hypocrisy