The illicit bhang trade has suffered a major blow over the last two months as the Director of Criminal Investigations (DCI) has continued on a crackdown on dealers of the substance.
According to multiple sources who spoke to Pulselive.co.ke, the trade which is mainly done through the black market has been hard hit by the frequent seizure of bhang products as they are transported from the producers to the distributors.
A blunt, the size of a cigarette stick, is now fetching as high as Sh50, up from Sh20 last year.
"I normally smoke the herb for leisure but the ongoing crackdown has badly affected the market. The dealers don't have supplies most of the time and if when they do, the prices are either double or even triple the prices we are used to," a user who requested anonymity told Pulselive.co.ke.
Bhang seized in Kahawa Sukari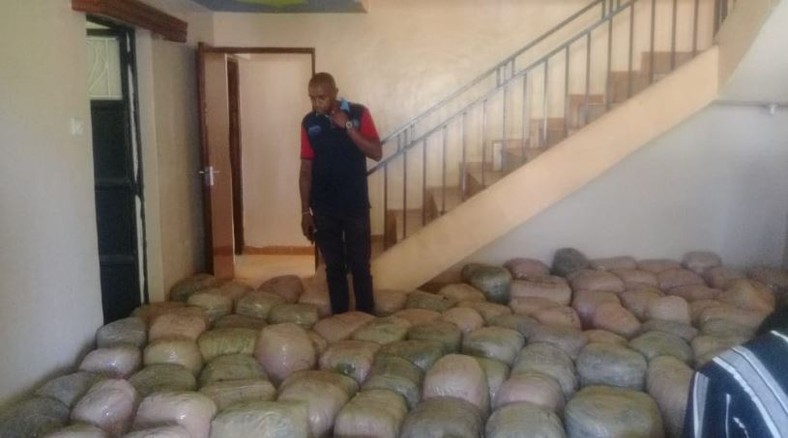 We contacted a trader who equally complained that the illicit business has taken a hit.
"I normally get the big roll for Sh1000 but now I have to pay Sh1500 and sometime up to 1800. I don't understand why they are cracking down on marijuana when other countries are legalizing it," the trader complained.
In February, Police recovered bhang worth Sh4.5 million after carrying out a raid at Kahawa Sukari estate.
In the same month, detectives had confiscated bhang with a street value of over Ksh.3 million in Emali town, Makueni County.
The illegal substance was being ferried from Nairobi to Mombasa and was detected at a police road block.
In late march, security agencies recovered bhang with a street worth of at least Sh2 million after the vehicle ferrying the substance was involved in an accident.
The driver of the vehicle had been escaping from police manning blocks along the Naivasha-Nairobi highway when the accident occurred.
Just last week, sleuths seized bhang worth Sh2.5m from an abandoned vehicle in Salgaa on the Nakuru-Eldoret highway.
The drivers of the vehicle was believed to have escaped after learning of several police manning blocks in the busy highway. 
Legalisation of weed in Kenya
Bhang remains an illegal drug in Kenya although there have been recent attempts to legalise it.
Kibra MP Ken Okoth has sponsored the Marijuana Control Bill in the National Assembly, seeking to decriminalise the use of marijuana and draw up regulations for growth and use of the herb.
Marijuana has been legalized in several countries for medicinal and leisure use.
In September 2018, South Africa became the first African country to legalise bhang after the constitutional court ruled that private use of marijuana was legal.