Kenyans on Monday reacted with anger after a local daily revealed details of a Chinese cartel that is taking over business at the populous Gikomba Market.
The Business Daily reported on the influx of well-financed Chinese traders who are slowly taking over a business that has been the preserve of small-scale Kenyan traders.
The report also indicated that apart from controlling the importation of second-hand clothes and other cheap Chinese imports, the China-men are also venturing into wholesale and retail distribution.
Kenyans traders have hitherto had to deal with competition from illegal foreigners from the Democratic Republic of Congo and Tanzania who operate small stalls in the area.
However, the influx of the Chinese was received with increased anger as the Asian giant is seen as slowly dominating key sectors of the economy.
Kenyans on social media wondered how the Chinese have been allowed to operate just a few months after Interior CS Fred Matiang'i said no permits would be issued to foreigners who perform jobs or businesses that can easily be carried out by Kenyans.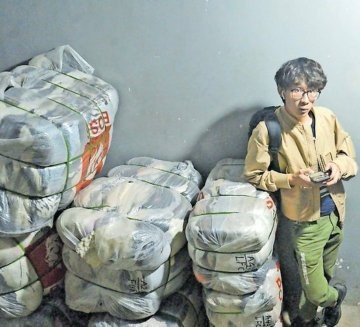 Anger as Chinese Cartel taking over Gikomba market is exposed
Raila Junior
"There is no way small scale traders in Gikomba are going to have healthy competition with Chinese around," ODM Leader Raila Odinga son, Raila Junior, tweeted.
"The chinese in Gikomba is a story of how our beautiful land is being taken away again, our forefathers blood was not enough, we will shed blood again to drive these chinese away years to come. We have auctioned our country," John Mwenda said on Twitter.
"Kenyans look surprised with happening in Gikomba market concerning Chinese mitumba business infiltration. They came for fish industry, blackmailed the gv't and are supplying fish with local brand names to confuse consumers. After all, we are a Chinese province. Better get ready," @retiredcomrade warned.
"The President should visit Gikomba to see what the Chinese are doing. Wanakamua Kenya wangwana wakivumilia," Cyprian Nyakundi Escobar said.
"It pains me to look at this country's economic situation at this moment BUT God... we a bunch of barking dogs...chinese in Gikomba. Look at us thinking matiang'i is somehow god. Smfh. Mtadoo nini sasa?" Ganjor wondered.
"The government should Move to regulate Chinese activity in Kenya. We cannot have chinese Hawking in Town and in Gikomba!" Nduta stated.