As Kenyans mark the day named after the second President of the Republic of Kenya, the internet is filled with mixed reactions.
Some praising the former president for his exemplary leadership as some say that his days in power were not a joke.
Moi Day is a public holiday in Kenya, a day set aside to honour former President Daniel Toroitich Arap Moi who was Commander-in-Chief for 24 years, making him the longest serving president of Kenya.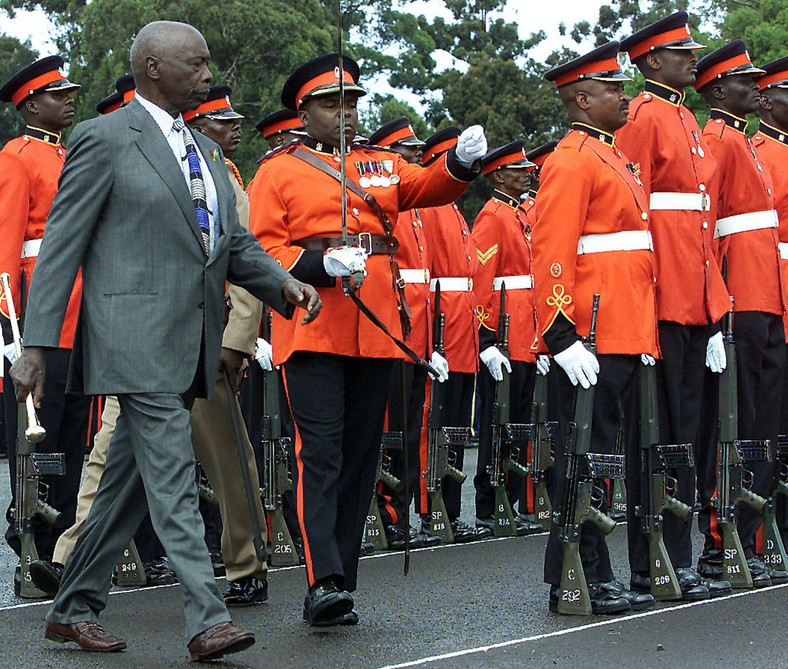 Kenyan President Daniel Arap Moi inspects guards during his farewell parade December 28, 2002.
After the promulgation of the 2010 Constitution of Kenya, the day was scrapped off from the holidays calendar but was reinstated by the court in 2017, giving Kenyans another chance to mark the day.
As this was going on, Kenyans on Twitter have not been left out in the celebration and here are their reactions;
Kenya's second President, Daniel Arap Moi hands a trophy to a student. (Dailynation)
@jedwaga Even Moi University alumni don't have a reason to celebrate.... #MoiDay #NoReasonToCelebrateKe
@DonaldBKipkorir On this beautiful #MoiDay , I remember with nostalgia my President, President Daniel Arap Moi ... Some may want to remember the negatives but I choose to remember his positives knowing we all are human & we all have our foibles ... Unlike many of his age, Moi handed over power.
@SitotonTech Why are people hating Moi and yet we have had almost 17 years to change the narrative! Are we better where are now? Are the problems we are facing now because of President Moi? We should move forward and know that the current Government is no better and we should change! #MoiDay
@jimale_mohamud Kenyans are celebrating Moi, while I hv lost my uncle and aunt at wagalla airstrip(wagalla massacre) wajir west constituency. Its a sad day for the people of wajir and abuse to our rights. @MheshimiwaKaka @MheshimiwaKaka We demand the implementation of TJRC reports. #MoiDay
@kingmkenya #MoiDay #HappyMoiDay Because of him we have this big schools, roads ,stadiums etc that #uhuruto never give a fuck to take care of. Mzee Kula nduma na Mursik na amani
@LinusKaikai MOI was a serious political adult; fully in charge of the national homestead he headed. He genuinely cared for National Unity, running a Govt largely representative of the face of Kenya. He fully protected our territorial borders. History will judge this man kindly. #MoiDay
@EngnrDan Now that Moi's Presidency is the best thing that ever happened, let's welcome Man Giddy to continue with the legacy of Mzee. #MoiDay