Balaam Barugahara intends to sue Bajjo Events in the wake of allegations that he registered 'People Power' slogan as NGO.
Through his lawyers, Balaam says allegations for registering people power as an NGO 'are not only false but they have also provoked a hate campaign on social media-laden with abuse and insults'.
The letter further reads: "For the record, our client has never registered the words or name "People Power" and he has no intention of registering those words".
During a televised interview on BBS TV, Balaam said: "You can't wake up and begin using a name and thinks it's yours yet you have never registered it. If you have a phrase you want to use that would help your business even though it has been said by someone else, as long as no one has registered it, it's not a crime for you to take it up."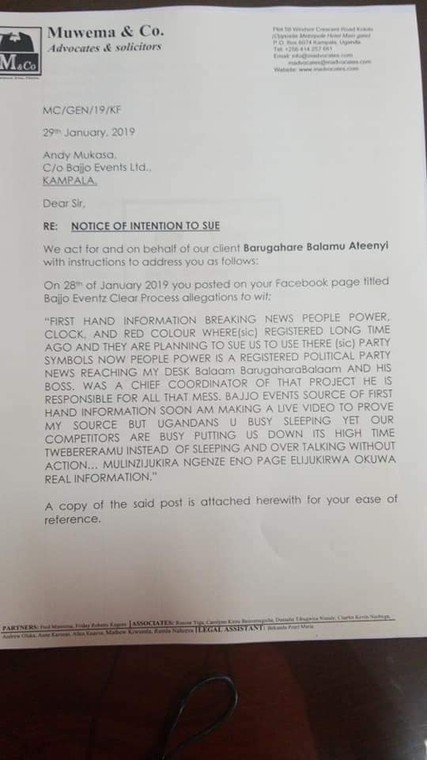 Demands
Balaam's lawyers have demanded Bajjo Events, who first made the allegations on social media, to 'retract the said false post from your Facebook page immediately'.
Bajjo Events has been ordered to 'render an unconditional apology to our client to be posted on your Facebook page'.
The lawyers want Bajjo Events to 'pay our client within 5 days, damages new estimated at UGX1bn for the offensive data publication together with UGX50m being our legal fees'.