Verizon made a slew of announcements about its mobile 5G network, disclosing launch dates for two cities and the pricing structure of its unlimited 5G service. The carrier plans to light up its mobile 5G network on April 11 in Chicago and Minneapolis. Verizon subscribers on all three of its unlimited plans will be able to leverage mobile 5G for an additional $10 a month, with the first three months free.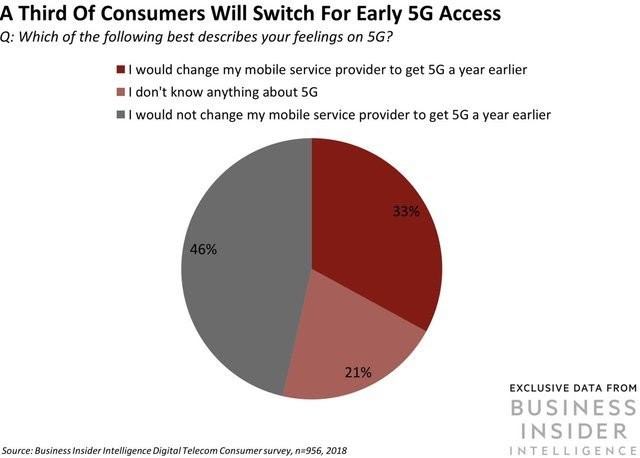 Business Insider Intelligence
The service will initially be accessible with Motorolas moto z3 smartphone, which can be upgraded to become 5G-capable with a Verizon-exclusive 5G moto mod attachment. Verizon is incentivizing its customers to upgrade to its 5G service by offering the 5G moto mod attachment for as little as $50 the mod will eventually retail for $350 to those with a moto z3 or who buy the smartphone.
Heres what we think about Verizons mobile 5G play:
Consumers wont readily jump to access the service because the $10 premium is above what theyre willing to pay.Less than one-third (31%) of consumers are willing to pay more for mobile 5G, and on average, they'd only be willing to pay an extra $4.40 a month, according to a survey by PWC. And given that Verizon already has the most expensive unlimited plans, an extra $10 might prove too much for its consumers to make the leap to 5G.
But, its unlimited access is appealing, and a better option than what AT&T is currently offering.AT&Ts mobile 5G hotspot thats used to access its 5G mobile network costs $70 for 15GB. However, among consumers willing to pay more for mobile 5G, over half (52%) say unlimited data warrants the premium. Furthermore, 76% of respondents cited unlimited data as one of the most important mobile offerings a carrier can provide, per Business Insider Intelligences Telecom Competitive Edge Report (enterprise only).Verizons move to continue to offer this must-have feature for 5G access bodes well for convincing consumers to pay the premium.
The news marks Verizons first big step forward in its wireless 5G play.After launching in Chicago and Minneapolis, Verizon plans to bring its mobile 5G network to an additional 28 US markets by the end of this year. This ambitious endeavor will propel Verizon ahead of its competitors in catering to a greater audience and will better position it to capture eager consumers in these 30 markets looking to jump ship for early 5G access.
On average, one-third of consumers would be willing to switch mobile providers to get 5G earlier, according to Business Insider Intelligences Telecom Competitive Edge Report (enterprise only).
Interested in getting the full story? Here are two ways to get access:
1. Sign up for the Apps and Platforms Briefing to get it delivered to your inbox 4x a week. >> Get Started
2. Subscribe to a Premium pass to Business Insider Intelligence and gain immediate access to the Apps and Platforms Briefing, plus more than 250 other expertly researched reports. As an added bonus, you'll also gain access to all future reports and daily newsletters to ensure you stay ahead of the curve and benefit personally and professionally. >> Learn More Now
See Also:
SEE ALSO: 5G AND THE IoT: How the next generation of wireless technology will transform the IoT