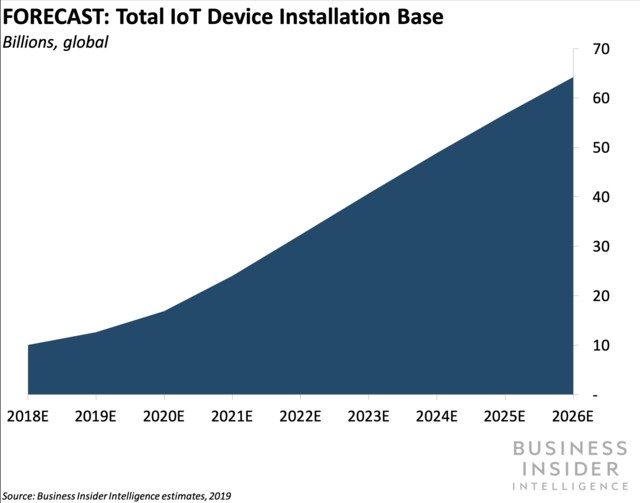 Business Insider Intelligence
The IoT investment is "the single largest investment the company is going to make this year," according to Wilfredo Sotolongo,VP and chief customer officer for Lenovo's Data Center Group, per CRN.
Here's what it means: Lenovo sees IoT as an opportunity to grow beyond its core personal computer (PC) business, and it can leverage its existing enterprise relationships to do so.
Currently, Lenovo is a giant in the stagnating PC market.The company was one of the top PC vendors by shipments in 2018, neck and neck with HP. Although Lenovo grew its market share year-over-year (YoY) in 2018, the overall number of PC shipments fell by 1.3%. That marked the third straight year of declining shipment numbers: The PC market saw a0.2%YoY decline in 2017 and a 1.5% YoY decline in 2016.
In an effort to diversify, Lenovo is making significant IoT investments to win over enterprise IoT clients, especially from among its existing customer relationships and contracts.Lenovo has invested in building up its enterprise IoT offering with new products and services, like its all-inclusive IoT Solution Bundles and a new Smart Vertical Group, to better tailor IoT solutions for specific industry use cases. To sell these enterprise products, the company can rely on its current base of clients from its PC and data center businesses. These clients who already use and trust Lenovo's products could be upsold with the company's expanded IoT products and services.
The bigger picture: Many other tech players are also investing in new product offerings for the growing IoT market as a means to capitalize on existing partnerships.
Lenovo is not alone in courting its enterprise customer base with new IoT devices and solutions.Other computing hardware companies like Dell and HP have also made significant efforts in the IoT space. In late 2017, Dell announced a new division focusing on IoT partnerships and products supported by a three-year, $1 billion investment.
And in June 2018, HP Enterprise committed $4 billion over four yearsto develop edge computing technologies, which move the processing of data captured by IoT devices from the cloud to a local computing device.
Other tech companies are approaching the IoT market from angles that emphasize their own strengths. Telecoms and cloud providers, for example, are targeting services like LTE connectivity and cloud platforms to IoT use cases.
The IoT market is expected to grow rapidly and represents an attractive opportunity for tech companies that are able to build up a large market share early on Business Insider Intelligence forecasts there will be 64 billion IoT devices in use worldwide by 2026.
See Also: