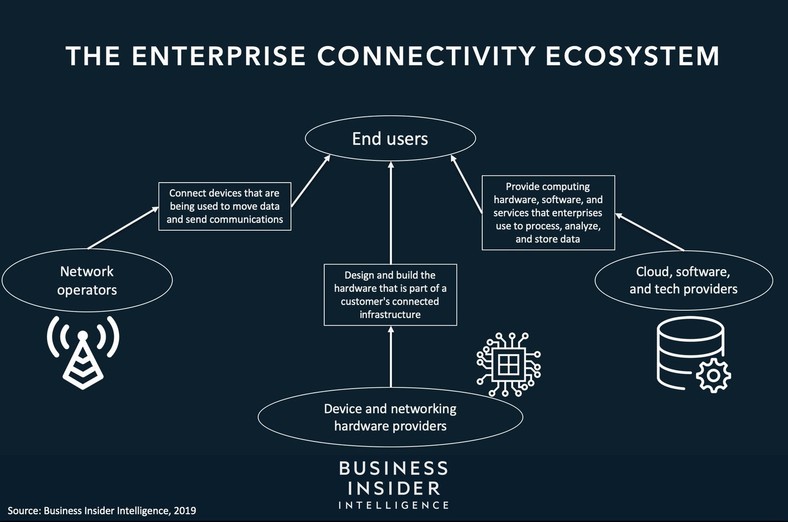 The enterprise connectivity ecosystem
Business Insider Intelligence
Here's what the companies are doing: The partners plan to pool their resources to develop solutions that leverage DT subsidiary T-Systems' Cloud of Things product in conjunction with Software AG's Cumulosity IoT platform.
Cloud of Things is an integrated IoT platform that enables companies to manage systems that control mission-critical applications.Through a single system and interface, companies are able to view connected devices within their device infrastructure, see observations and data streaming from the devices, and control those devices or set up rules to manage their behavior.
With the integration of Software AG's platform, however, Cloud of Things will operate in a multi-cloud environment, which will enable faster scaling. That will in turn allow customers to quickly move from pilot to production and begin realizing the benefits their connected sensors and systems can provide faster.
The bigger picture: DT's renewed efforts in the IoT platforms market mirror those of fellow telecoms including Verizon, Vodafone, and Sprint.
Companies across the telecoms space are looking for ways to leverage their connectivity expertise and solutions to disrupt the IoT platforms market.There's a huge market in a number of different vertical areas waiting to be tapped, with the market for connected industrial and manufacturing services estimated to approach $1 trillion by 2025, according to Million Insights. Telecoms are generally following one of two approaches to get into the IoT platforms space, though some companies are adopting both strategies in different areas:
Forging partnerships with platform providers.Examples of this include DT and Software AG's collaboration as well as Vodafone Business and IBM. These partnerships generally allow telecoms to bolster products that they already offer by tying in specialized tools and services that they may not offer. Together, both companies are able to bring a more compelling product to market, although the telecom can lose out on revenue as it must share with the other party.
Developing or acquiring a comprehensive solution.An example of this approach to the IoT market is Verizon Connect, the telecom's fleet management product that was borne out of its internal development efforts as well as its acquisitions of Telogis and Fleetmatics in 2016. Though a development or an acquisition is likely a more resource-intensive move for the telecom, it can retain all revenue earned from the solution.
Business Insider Intelligence spoke with Chris Penrose, president of IoT solutions at AT&T, about how his group approaches the question of expansion and straddles the line between both paths to market.
"You're always looking at build, buy, or partner ... in these new spaces, and so we really look through those lenses to say, 'What does the industry look like, who are the players in the industry, what are our capability sets in the industry, and what is our capacity to create and invest in creating a solution that can be best in class and be sustainable?' If we see a market need where there isn't necessarily a clear lead position, or it's a new emerging area where we also believe AT&T has the capability set to differentiate and to invest, then we'll go down the path of actually creating it ourselves. But we're also always looking at what's out there in the industry and who's created the best capability sets in the space to see if going down a partnership or even a potential acquisition approach is what we need to look at."
See Also: