The NBA has new lottery odds, which give the three worst teams the same 14% chance at the No. 1 pick and greater odds of picking outside of the top three than within it.
In a top-heavy draft, if any of the worst teams miss out on the top three picks, it could go a long way toward curbing tanking, which was the NBA's goal with the revised odds.
The odds for all 14 teams can be found below.
The NBA's draft lottery is on Tuesday, and the league will find out if the revised lottery odds will have the impact they hoped.
Last year, the NBA changed the lottery odds to curb tanking. Previously, teams with the worst record had a 25% chance at the No. 1 pick, the second-worst team had a 19.9% chance, a 15.6% chance for the third-worst record, and falling odds through the final 11 lottery teams. The team with the worst record could not pick lower than fourth.
Now, with the revised odds, the three-worst teams all share a 14% chance at the No. 1 pick. The fourth- and fifth-worst teams have a 12.5% and 10.5% chance at the No. 1 pick. The odds decline through the remaining lottery teams.
For the bottom three teams, there is a chance for devastation. The New York Knicks, for example, had the worst record in the league. They have a 14% chance at the No. 1 pick and just a 40.1% chance at staying in the top three. Under the new rules, they can't fall lower than fifth in the draft, but they have a 59.9% chance at picking fourth or fifth.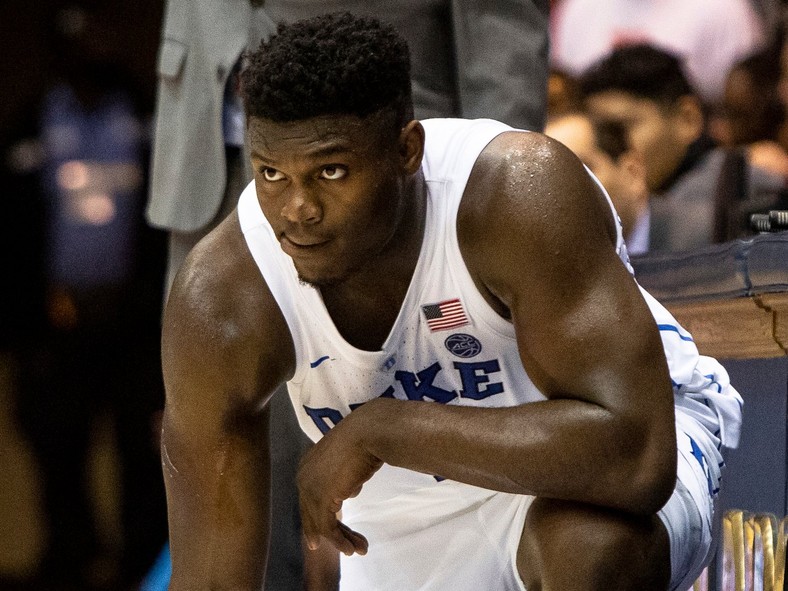 Any of these teams which blatantly tanked during the season picking fifth, sixth, or seventh would be devastating. In a top-heavy draft highlighted by Zion Williamson, Ja Morant, and R.J. Barrett, falling from the top three to fifth or sixth could mean going from a potential franchise star to perhaps a solid role player, if pre-draft analyses are to be believed.
Not much was made of the new lottery odds when the change was made, but the results on Tuesday could potentially go a long way in curbing tanking.
Here are the new lottery odds for each team.
New York Knicks 14.0% chance at No. 1 pick, 52.1% chance at top-four pick, can't pick lower than fifth
Phoenix Suns 14.0% chance at No. 1 pick, 52.1% chance at top-four pick, can't pick lower than sixth
Cleveland Cavaliers 14.0% chance at No. 1 pick, 52.1% chance at top-three pick, can't pick lower than seventh
Chicago Bulls 12.4% chance at No. 1 pick, 48.0% chance at top-four pick, can't pick lower than eighth
Atlanta Hawks 10.5% chance at No. 1 pick, 42.1% chance at top-four pick, can't pick lower than ninth
Washington Wizards 9.0% chance at No. 1 pick, 37.2% chance at top-four pick
New Orleans Pelicans 6.0% chance at No. 1 pick, 26.3% chance at top-four pick
Memphis Grizzlies 6.0% chance at No. 1 pick, 26.3% chance at top-four pick
Dallas Mavericks 6.0% chance at No. 1 pick, 26.3% chance at top-four pick
Minnesota Timberwolves 3.0% chance at No. 1 pick, 13.9% chance at top-four pick
Los Angeles Lakers 2.0% chance at No. 1 pick, 9.4% chance at top-four pick
Charlotte Hornets 1.0% chance at No. 1 pick, 4.8% chance at top-four pick
Miami Heat 1.0% chance at No. 1 pick, 4.8% chance at top-four pick
Sacramento Kings 1.0% chance at No. 1 pick, 4.8% chance at top-four pick
NOW WATCH: What it's like to go into sudden death with Tiger Woods
See Also: