"The latest cut appears much more fundamentally demand-driven, with the question of the 'true' run-rate of the gaming business remaining up in the air for now," a group of Berstein analysts led by Stacy Rasgon said Monday in a note titled "A splash of cold water? Downgrading to Market-Perform."
The team slashed its price target to $175 from $250, and changed the bullish "outperform" rating it had held. Nvidia shares were down as much as 3.21% to $143.42 apiece early Monday after the note was published.
"We still believe in the long-term datacenter story," Rasgon said.
"But this is not like 18 months ago, when the absolute $ amounts were small, YoY growth was massive, and expectations had plenty of room to move higher. Now NVDA has to show ever-increasing growth off of a base that is growing ever larger. Headline risk likely to continue increasing. And tactically the near-term cloud spending environment is unfavorable, driving near-term downside."
Last quarter , Nvidia cited weakness due to an excess of mining graphics processing units for cryptocurrency amid a massive decline in the price of digital coins last year.
Analysts have also noted Nvidia's struggles with its transition to ray-tracing chips . Ray tracing, which allows for more cinematic and realistic visuals, is a niche technology that Nvidia has been touting in its GPUs. Early January, the companyintroduced the GeForce RTX 2060 , its cheapest graphics card that can provide ray tracing.
"When you turn on the ray tracing, it affects the overall performance of the GPU pretty substantially," Christopher Rolland, a semiconductor analyst at Susquehanna International Group recently told Markets Insider.
"Nvidia promises people real-time ray tracing, but you practically can't use it. That's definitely a disappointment."
The company is set to report fourth-quarter earnings after Thursday's closing bell. Analysts surveyed by Bloomberg are expecting $0.84 adjusted earnings per share on $2.3 billion in revenue.
Nvidia was up 10% so far this year.
Now read: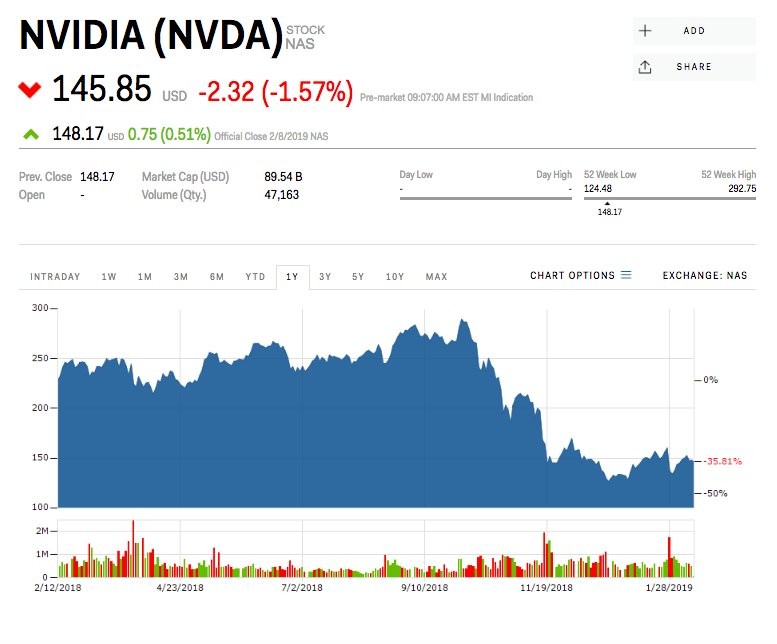 BusinessInsider USA Images
MI
NOW WATCH: Meet the three women who married Donald Trump
See Also: