To receive the full story plus other insights each morning, click here.
Samsung Pay has teamed up with Paisabazaar.com, an India-based marketplace for financial products, to enable Samsung Pay users to apply for credit cards and personal loans through the platform, per a press release . The offering includes Paisabazaar's "Chance of Approval" feature, which uses algorithms to recommend the best lender for a consumer and boost the likelihood of their request being approved.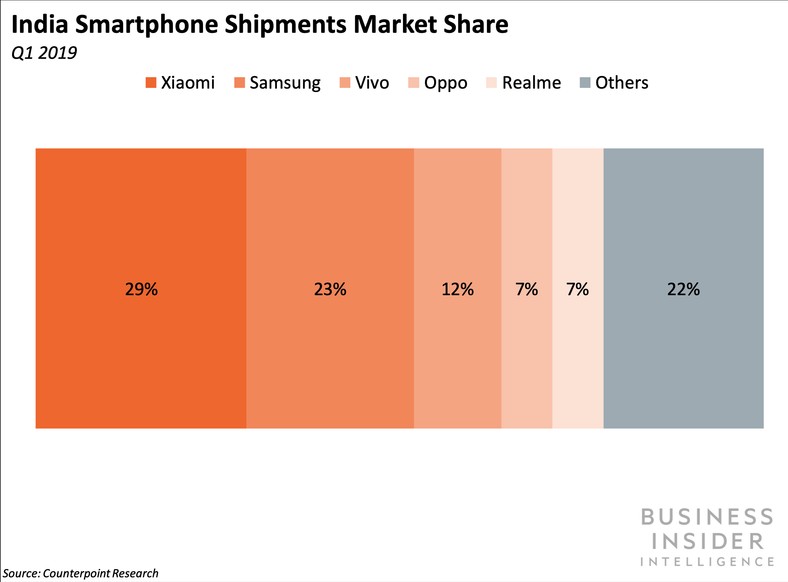 India smartphone shipments market share
Business Insider Intelligence
Here's what it means: Samsung is upping its wallet's value to better take advantage of its position as a top mobile provider in India.
Allowing users to apply for credit cards and personal loans gives the mobile wallet more utility and could lead to users relying on it for more of their financial needs. Indian consumers may be more likely to adopt Samsung Pay if it offers more capabilities, and credit cards and personal loans should prove particularly enticing since they've seen growing usage in India. Offering more financial products via Samsung Pay could also increase wallet usage by giving consumers greater ability to spend, and may make Samsung Pay a hub for their financial needs.
Introducing new capabilities to drive adoption and usage could enable Samsung Pay to establish a leading position in India thanks to the popularity of Samsung phones in the country.Samsung held the second-biggest share ( 23% ) of smartphone shipments in India in Q1 2019, giving Samsung Pay a significant addressable base. And adding features like these new offerings with Paisabazaar can help it take advantage of that opportunity.
The bigger picture: These efforts are key to Samsung Pay's success as it contends with an extremely competitive payments market in India.
The country's digital payments industry is projected to be worth $1 trillion in 2023, and several players have been increasing their efforts to position themselves for success in the market. Leading market provider Paytm has introduced its first proprietary credit card, indicating that other providers are dabbling in the credit and lending space as well.
And the firm has other challengers too: PhonePe, which has served as Flipkart's payments arm, is set to become its own entity and will look to raise $1 billion at a valuation as high as $10 billion. To stand out in an increasingly crowded market where providers are rapidly adding new features, Samsung needs to continue adding value to Samsung Pay, or it'll risk squandering the advantages that the brand's market popularity provides it with.
Interested in getting the full story? Here are two ways to get access:
Subscribe to a Premium pass to Business Insider Intelligence and gain immediate access to the Payments & Commerce Briefing, plus more than 250 other expertly researched reports. As an added bonus, you'll also gain access to all future reports and daily newsletters to ensure you stay ahead of the curve and benefit personally and professionally. >> Learn More Now
Current subscribers can read the full briefing here.
See Also: